Details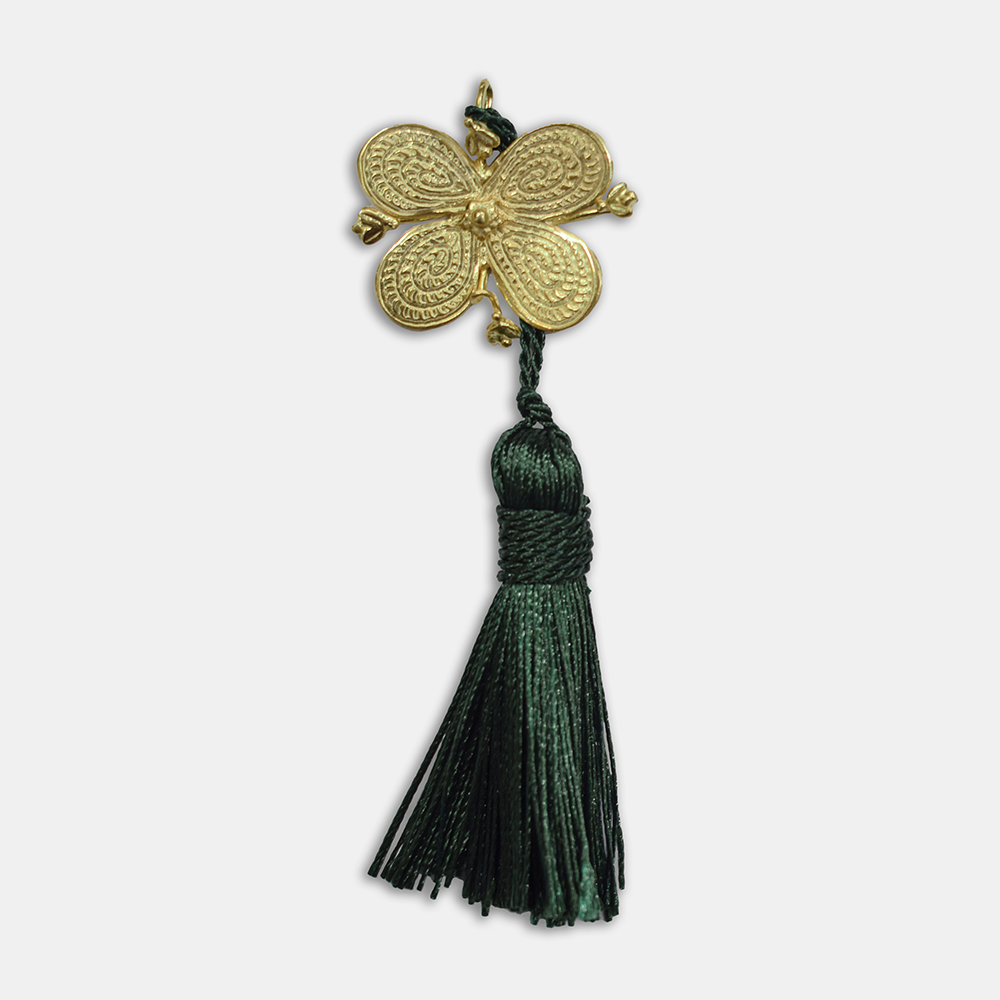 Με την ευκαιρία της συμπλήρωσης 100 ετών από την υπογραφή της Συνθήκης της Λωζάννης (24 Ιουλίου 1923), η οποία επέφερε την υποχρεωτική ανταλλαγή των πληθυσμών μεταξύ Ελλάδας και Τουρκίας και σφράγισε τη μοίρα των Μικρασιατών Ελλήνων, το Εθνικό Ιστορικό Μουσείο (ΕΙΜ) αφιερώνει στον Ελληνισμό της Μικράς Ασίας το γούρι του για το 2023.
Είναι εμπνευσμένο από την περίτεχνη χρυσοκεντημένη σύνθεση επενδύτη («τσόχα») από την Καππαδοκία, ο οποίος εκτίθεται στην περιοδική έκθεση «Από τη Μεγάλη … στη Σύγχρονη Ελλάδα», που παρουσιάζει το ΕΙΜ για να τιμήσει την επέτειο της συμπλήρωσης 100 ετών από τη Μικρασιατική Καταστροφή.
Η ενδυμασία της Καππαδοκίας αποτελεί χαρακτηριστικό δείγμα της πλούσιας πολιτιστικής κληρονομιάς της ελληνικής κοινωνίας που άνθησε στα βάθη της Μικράς Ασίας και μέσα από αμέτρητες δυσκολίες κατόρθωσε να διατηρήσει τον εθνικό της χαρακτήρα.
Το γούρι, σε επιμέλεια-κατασκευή της Μαρίας Λιώνη, διατίθεται σε δύο εκδόσεις, ασήμι και ασήμι επιχρυσωμένο.
Details
The National Historical Museum Shop, open since the 1990s, is located in the Old Parliament Building at Kolokotronis Square. All the objects in the Shop are either copies of original relics of the museum or inspired by them, as its main purpose is to acquaint the public with modern Greek history and folklore.
Details
The National Historical Museum presents the commemorative medal, made for the bicentenary of the outbreak of the Greek War of Independence (1821), in the framework of the anniversary program "Revolution ΄21 Reframed".
The medal, an object of remembrance of the anniversary and the significance of 1821, is an original creation, made by Elena Votsi, an internationally renowned designer from Hydra, who designed it exclusively for the Museum, on a non-profit basis. The casting and striking of the collectible, commemorative medal was made with the support of Piraeus Bank.
Details
On the occasion of the 100th anniversary of the Asia Minor Disaster, the National Historical Museum dedicates the 2022 calendar to Smyrna, the cosmopolitan city of Ionia, the city of Levantine merchants, of letters, arts and spectacle, the multicultural Smyrna, the Smyrna of the Greeks.
Smyrna, Bayrakli, Kokaryali, Karatasi, Kordelio are just a few stations in a memory journey made with the aid of images as they are captured by the photographic lens. Photographs and letterheads from the Photographic Archive of the Historical and Ethnological Society of Greece are accompanied by excerpts from literary texts, composing the image of the city and its surroundings.